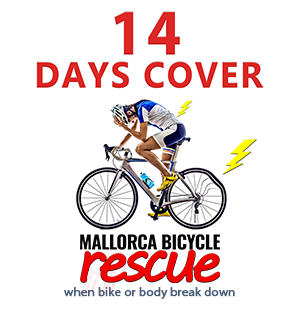 14 day rescue and recovery
SKU 14dayMallorca
Product Details
For when bike or body break down, Mallorca Bicycle Rescue come and fetch you from the roadside and take you to the nearest bike shop for repairs or back to your place of accommodation, your choice.
*In Mallorca it is not a simple matter of just calling a taxi when you are stranded. In addition to the language difficulty and the strict zoning rules governing which taxi can go where, there is a big reluctance to fetch someone from the roadside, especially on a roadside in the middle of nowhere.
We provide peace of mind to ensure your visit has no nasty surprises - please purchase the day before use - don't wait to break down.
Save this product for later