Your Best Mallorca Cycling Weekend
Plan your own and complete all the highlights

Our suggestions and recommendations for a brilliant Epic Mallorca Cycling Weekend. Plan it yourself, and keep costs and wasted time to a minimum.
We look forward to welcoming you to cycling paradise. Enjoy 🙂 Instant airport transfer quotes here.
Mallorca Cycling Weekend – Day 1 – Arrival day
Depending on how early your flight gets in and how ready your legs are, the choices are:
1. Port Pollença – Cap Formentor lighthouse. 35km with 1000m of climbing.
2. Cap Formentor including Talaia d'Albercutx. 40km with 1200m climbing, which includes the additional hill above Formentor beach. GPX download via the link.
3. Bay Of Pollença. 77km with 1700m of climbing, adding on the beach road through Alcudia, on through Bonaire and up to the military base then La Victoria. GPX download via the link.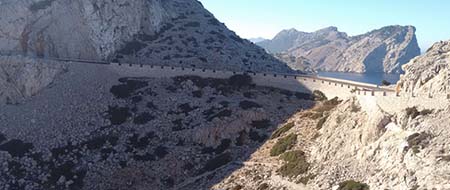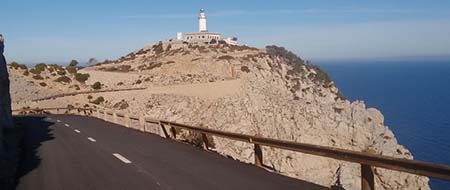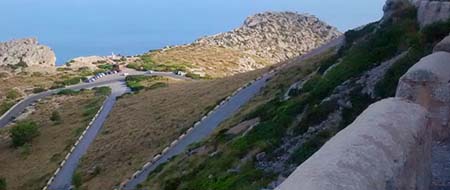 Mallorca Cycling Weekend – Day 2 – The Best Cycle Route in Mallorca
Smooth surfaces, rolling hills, relatively car free, great weather, perfect café stops, eye catching coastal and forest scenery all ensure that Andratx back to Port de Pollença is without doubt the best cycle route in Mallorca and deserves to be on every itinerary for those who are fit enough. All in your own time and at your own pace.
If I was to choose one route to be my last route ever, this is the one I would choose. Take one of the scheduled Mallorca Cycle Shuttle bike buses to Andratx from Alcudia; Can Picafort; Playa de Muro or Port Pollença and then ride back on a return route of between 115km and 162km across the spine of the world heritage Tramuntana mountains.
Your cycling soul will thank you forever for this. None of the routes are easy, but all are worthwhile. Very worthwhile. Not fit enough? Get fit enough!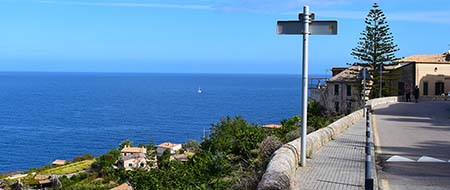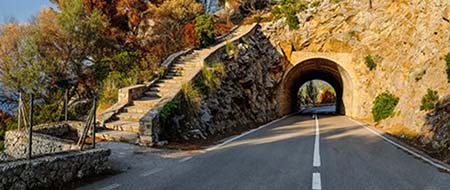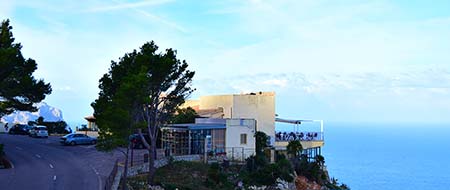 Mallorca Cycling Weekend – Day 3 – departure day
Time for the world famous climb of Sa Calobra. As this is the day after your Queen stage, it may take a while for the legs to get loose after the previous days exertions but the scenery will help.
We suggest one of 3 route options that depend on your legs and the amount of time you have.
Choose from either:
1. Port de Pollença to Sa Calobra and back
Alcudia / Port de Pollença – Campanet – Selva – Col Sa Batalla – Col dels Reis – Sa Calobra – Col de Femenia – Pollença – Alcudia / Port Pollença.
112km with 2300m of climbing.
2. Sa Calobra, Coll de Sóller and the Orient Valley
Aqueduct – Sa Calobra – Puig Major – Sóller – Coll de Sóller – Bunyola – Coll d'Orient – Orient Valley – Coll d'Honor – Alaro – Lloseta – Selva – Alcudia – Port de Pollença
3. Sa Calobra with the Sa Calobra Express
This link takes you to the two return route choices with GPX downloads of either 60 or 70km.
Option 1: Aqueduct – Port Sa Calobra – Coll dels Reis – aqueduct – Lluc – Coll de Femenia – Pollença – Port de Pollença
60 km with 1200m of climbing.
Option 2: Aqueduct – Port Sa Calobra – Coll dels Reis – aqueduct – Coll de Sa Bataia – Caimari – Selva – Campanet – Port de Pollença
70km with 1300m of climbing.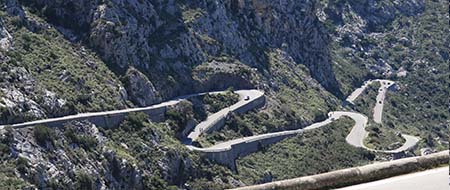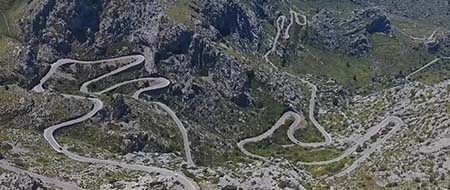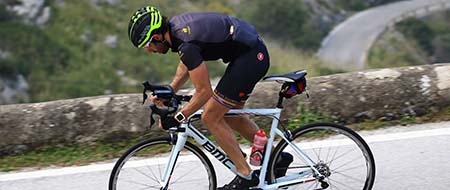 Planning your trip
Port de Pollença is far and away the best town to stay in if you are coming for a Mallorca cycling weekend. You will hear other towns mentioned, but they are all vying for a distant second place.
Flights
To search for flights that suit, try the usual suspects. Skyscanner and Google Flights.
Accommodation
We have personal experience of and can recommend all of these fine cycling friendly hotels: Apartments Hoposa Daina; Fergus Pollensa Park; Hoposa Villa Concha; Hoposa Hotel Uyal and the Portblue Club Pollentia.
Airport Transfers
When you are here for a short time, speed and efficiency are paramount. We at Mallorca Cycle Shuttle and our bus company Condé Transfers (soon to be rebranded Mallorca Holiday Transfers) cater for all size groups with very competitive pricing. We are there when you are. We wait for you, not you for us. Instant quotes here.
Bike Shuttles
Reviews here.
Full schedule here.
Bike rental
From personal experience Pollensa Cycling and Niuwave Bicicletes are both a pleasure to deal with. They all offer a wide range of quality bikes at reasonable prices. You will be well taken care of. There are loads of other options and the overall standard of rental and service is high.
When to come cycling in Mallorca
The best months to come cycling in Mallorca – March, April, May, June, September, October, November December. July and August are generally too hot to cycle apart from the early mornings. Most of the tourist facing businesses are closed from November to February, but that can also be a blessing as you will be able to use the places that the locals use – generally better and cheaper! Here is an overview of expected monthly weather in Mallorca.
Additional Notes
Bring lights, the tunnel on the way to Cap Formentor gets very dark in the middle.
Don't let these rookie mistakes spoil your Mallorca cycling weekend.
Bring layers. The temperature in the mountains is generally 5° cooler than at sea level.
Bring suntan cream. The sun beats down on 308 days each year, just waiting for your skin.
Get bike rescue as sometimes sh*t happens, usually at the least opportune time.  Murphy's law and all that. Don't be that person that holds up the group – everyone's time here is precious.
After this weekend, you will fall asleep on the return flight, bring something to catch the drool other than your neighbours shoulder 🙂